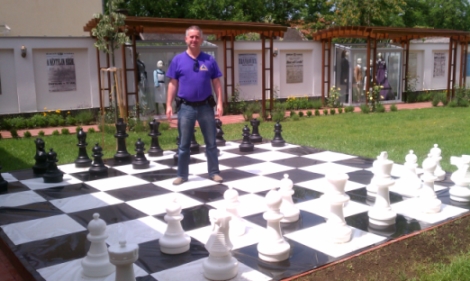 Respect - visit in 2011, the legendary Erkel House in his native town Gyula, Hungary.
FIDE GM Chess Coach Emil Anka
Having earned a 4-year university degree in chess coaching, GM Anka has coached for over 30 years, has played over 2000 classical tournament games, and has published dozens of analytical articles. As a FIDE International Arbiter, he has organized and directed many international tournaments. Emil is a well-organized, patient, successful chess coach, who fosters the development of self-discipline, maturity, and consistency as skills that lead toward success in any endeavor.
In 2010, GM Emil Anka moved from Budapest, Hungary, to Bellevue, WA, to help develop youth chess in the USA's Pacific Northwest. Several of his students have improved under his tutelage to expert (rated 2000+) and even master (2200+). His former student, Richard Rapport of Hungary, became a grandmaster before age 14; the June 2020 FIDE rating list shows Rapport as #13 in the world among all players with a rating of 2760.
Emil Anka holds the second-highest title in chess: International Grandmaster (usually called simply Grandmaster, or GM, or IGM). Only about 1600 chess players in the world today have reached this elite level. The highest title belongs solely to Magnus Carlsen of Norway, who reigns as 16th World Champion. Coach Grandmaster Emil Anka resides in Kirkland, WA. Besides his private students, he also teaches chess after-school enrichment programs, and he also runs local chess tournaments.